SEA KAYAK TRIPS & EXPEDITIONS
Steve has been running sea kayak trips for twenty years, providing adventure holidays to some of the world's great paddling destinations. Recent trips have been to Arran, Skye, Orkney, the Hebrides and the NE coast of Scotland, Steve has also run trips to Shetland on many occasions; all have been fantastic. You don't need to increase your carbon footprint in your escape 'from the madding crowd' when you have such wonders on your own doorstep. Please call Steve to discuss this or any other provision, he'll be delighted to hear from you.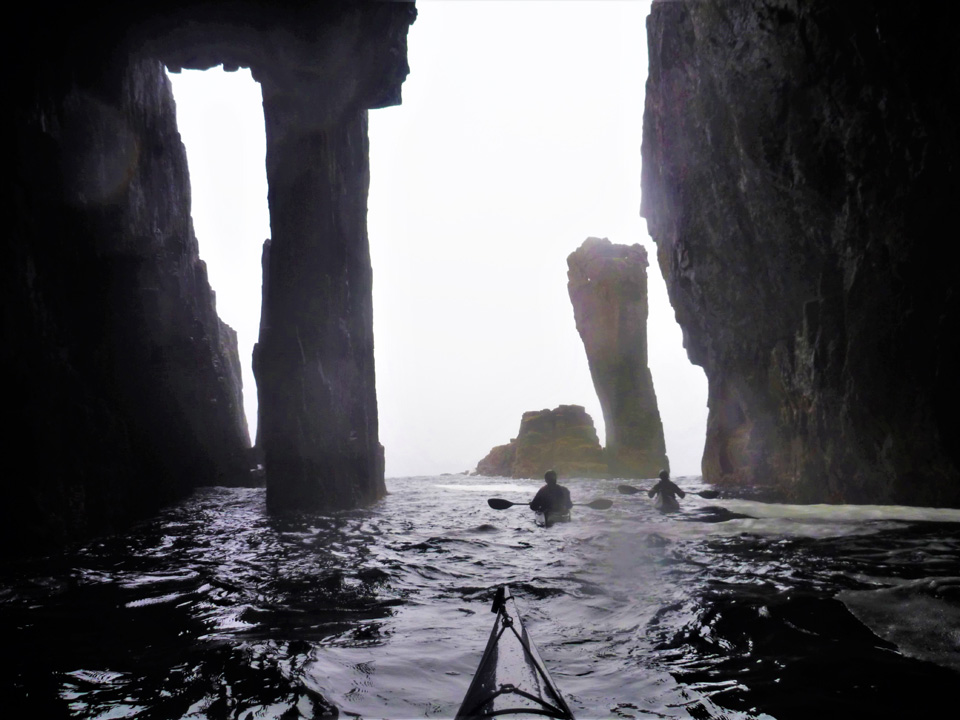 SUMMER SEA KAYAK TRIPS 2022
Steve has now completed all his 2021 sea trips, he will next be putting on two, single week sea kayak trips to run in June 2022.  The current favoured options are a week in Jersey in the Channel Islands and a week in Brittany (consecutive).  Both will provide paddling in fantastic locations with lots of options to work with the prevailing conditions.  These venues and the dates will be updated, published and confirmed in due course.
If you're interested in an amazing sea kayak adventure please get in touch with Steve; he'll be pleased to hear from you and will do his best to assist.
| | |
| --- | --- |
| Cost | £475 for one week.  If you book both weeks the second week will be at the reduced rate of £375. (Does not include transport, equipment, accommodation or food). |
| Dates | June 2022.  Dates and venues will be confirmed in due course, though Jersey and Brittany are the current mooted options. |
| More details | Enquire now |
"Steve, I've been meaning to write and thank you for an absolutely fabulous trip to Shetland – I still haven't wiped the grin off my face, it was brilliant!"

Lara Adams, Architect, Elgol, Skye
"Hi Steve, HUGE thanks! What a fantastic vacation in gorgeous country – and the caves were the best ever! I can't think of anything to suggest which would have made it better – you did a fine, fine job and I loved every minute of it. I'll definitely be coming back next year!"

"Fabulous trip Steve. I'm blown away when I think back on everything I got to see – all thanks to you. I feel very fortunate!"

Jane Hardy, retired, San Diego, California (has come every summer for 10 years and counting)
"Hi Steve, Thanks for a fantastic sea kayaking trip [to the Outer Hebrides] – it was absolutely awesome!"

Dr. Mike Mears, GP, Esperanza, Western Australia
"Hi Steve, … I'm constantly thinking about the trip to Shetland, and going back. Thank you for all your planning, organising and of course leading. To lead a group in such a wild environment, especially the day at Eshaness, is no mean feat. Giving people the confidence to go there and get on with it, immersed in the experience has undoubtedly given everyone a big boost in their paddling."

Graeme Hodgson, Police Officer, Wigton
"Hi Steve, the first time I embarked on a sea kayaking expedition with you off the west coast of Scotland it is fair to say I was somewhat apprehensive! I had only a little paddling experience and had never packed a boat or even considered the possibility of wild camping. You were always there supporting and calming in an understated way. You knew I could do it even though I always assumed I couldn't! It was a very powerful message for me and one that has resulted in me returning again and again to take part in similar expeditions improving my skills and confidence. You have a remarkable ability to achieve fantastic results from the people who entrust themselves to your care whether that be in a boat, a cave or out on the mountains."

Susan Kent, Teacher, Eastbourne